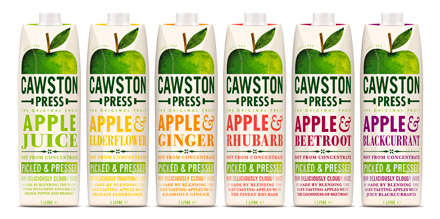 Cawston Press (formerly Cawston Vale) operate in the ambient (otherwise known as Long-Life) juice sector, not something the majority of customers would associate with a small, quality obsessed juice company. Consumers who graced the ambient aisle were in search of economy and convenience – quality was neither something expected nor appreciated. To them, Cawston was all but invisible.
So Pearlfisher were approached to redesign the brand and make Cawston visible. They started by putting the juiciness back into ambient juice – upping the taste and premium cues to give the brand a bigger personality. They also introduced a new name, Cawston Press to highlight the brand story of picking, pressing and apple preservation.
Today, sales figures are unrecognisable, increasing by 249% in the 12 months post rebrand, exceeding targets by £400K, 31% ahead of an already ambitious target. In like-for-like distribution, unit sales have increased by a spectacular 82%.
The DBA Design Effectiveness Awards recognise the return on investment that a coherent, well-thought-out and professionally executed design strategy can achieve.
THE COUNTDOWN